A · Naked European Walking Tour (NEWT) 2020 [8 August 2020]
Also in 2020, an international group of naturists from Ireland, England, the Netherlands, Belgium, France, Switzerland, Austria, Slovakia, and Germany met again in a side valley of the Zillertal to hike in the nude in alpine surroundings. In the beginning, it was cool and wet, later it was summery, partly hot and sunny, and we all had a week of fun and enjoyment together in the impressive nature.
Once, the naturist hiking group reached a suspension bridge. We waited patiently in a queue of clothed hikers near a hut above the well-known Schlegeis Dam. Everything was due to the motto "All together in the altogether".

"On a suspension bridge" 3:45 min [110 / 70 MB]
Text and photos: Rainer. Video: Pierre (France); post production: Rainer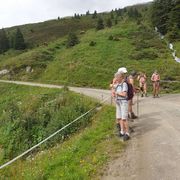 In 2020, the SNT offered for the first time the option to stay together in a hut during these naturist days. Also, it went more international with participants from several regions in Germany, England, France, and Czech Republic. So, after Austria and Spain, now also Saxon Switzerland in Germany is a NEWT-alike region thanks to Christian, Erik, Martin, Matthias, and Torsten.
 ► Thu 23 Jul: First hike in the buff from Kirnitzschtal Valley to Kuhstall Lookout and along the Flößersteig [23 July 2020]
The initial hike began at Beuthenfall in Kirnitzschtal Valley and led over clearly ascending paths and finally over ladders and stairs up to Kuhstall, where originally the stately seat of the Beuthen Nobles was enthroned, but of whose splendour nothing remains. The view of several strikingly towering stones in the surroundings compensated a little.
Afterwards the 31 naturist hikers reached the upper floor of the Kuhstall (Neuer Wildenstein) via the 35 cm wide Himmelsleiter, which is built into a narrow stone crevice. Here too, clothed groups and numerous families were in the majority, and many of them asked us questions with interest, so that several rounds of discussions about our way of hiking developed. Many remembered easily our verbal description of the URL of the natury website "nackt minus wandern punkt de"for German speakers and "hiking minus in minus buff dot info" for English speakers, to read more about it later.
Even if one or the other of them didn't want to leave the Heavenly Floor at all, they all finally cleared the terrain via the Erden-Treppe and met up again at the Schneiderloch.
The rafting trail along the Kirnitzsch then demonstrated, how paths in the forest can look like: Tree roots form the scaffolding between which the forest floor provides gentle tread and soft support – no trace of gravel or other artificial fortifications! The other 80% of the hiking trails were much more technical, so that vehicles could also pass through.
The day ended with a visit to the restaurant Lichtenhainer Wasserfall in Kirnitzschtal Valley.
 ► Fri 24 Jul: Through Wilde Hölle and Schlupfloch towards Idagrotte [24 July 2020]
The Friday hike should start at Nasser Grund in Kirnitschtal Valley and should have a much more demanding route than the day before. First of all, everyone, who had arrived at the starting parking lot, had to wait for the participants from the hut in Ottendorf, who had decided to park at the Beuthenfall car park and hike additional 1.5 km distance to Nasser Grund and back.
The further way led to Wilde Hölle. Before entering Wilde Hölle, four of the 40 hikers decided to choose a moderate route to Idagrotte. The other 36 took a few climbing sections over large stones and narrow footpaths, which required many big steps and strength, and on their way they faced some impressive views and several "real" climbing stones along the way.
On the mostly narrow paths, the nude hiking group of 36 people met again and again with oncoming groups and families, so that there were regularly small traffic jams to let the oncoming ones pass. Most of the time there were also conversations and two young ladies with dogs were even interested in the possibility to join one of the walks of the next days. A crawling through a hole in a stone wall at Affensteinpromenade shortly before Idagrotte, through which the official hiking trail led, offered one last test with which one had finally earned the refreshment.
The approach to spend the lunch break together with the four hikers of the moderate route at the Idagrotte postponed lunch break for some time.
Just as
Just as steadily as the hike led uphill at the beginning, a long, partly steep descent followed – after a last, spectacular 270-degree view, which only 4 or 5 of the hikers wanted to see. After about 10 km, one could look forward to a tasty refreshment in the restaurant Zur Schloßbastei in Bad Schandau.
 ► Sat 25 Jul: Ascent to the Arnstein and to the Kleinstein with the Kleinsteinhöhle [25 July  2020]
For the Saturday hike, 38 naturists gathered in Ottendorf at our hut, from where we hiked the first kilometre covered onto the edge of the village. Afterwards, we hiked naturally in the nude upwards to the nearby Arnstein. The partly steep ascent contained a few passages, where you had to make yourself small and slim or use your arms to reach your destination.
The medieval past as a castle still reveals a square cistern, from which, however, nobody wants to drink water today. The existing sandstone platform provided an opportunity for a lunch break and a view of the surrounding countryside. The unobstructed view to the west leads via the Raubsteiner Taufe, the Yeti, the Großstein, and the Hausberg.
Kleinstein and Kleinsteinhöhle were further destinations with a view and the opportunity to rest. On the continuing way, many observers noticed that whole arable fields were blooming with cornflowers, blood clover, cinquefoil, and various other multicolored flowering plants.
After a good 12 km, the hikers returned and could prepare for dinner at the restaurant Ottendorfer Hütte.
 ► Sun 26 Jul: Shelter against rain in a cave at Hintere Raubschloss and then warmth again by sun at Marienhöhle [26 July 2020]
On Sunday, a four-day series of nude hikes ended, during which the hiking group got to know former retreats of robber barons in the 15th century. The previous evenings, Martin had explained his findings about them and their connections to the Czech noble family of the Berken von Dubá.
Rain accompanied the ascent to the Winterstein, which is also called Hinteres Raubschloss. In a cave, we found a dry resting place with a view. There, we got into conversation with some young people, who tried to get dry again after the ascent with clothes and rain protection. "Yes, you are doing it right. We'd also like to hike in the nude, but there's no place to store our clothes." Textile wearers: When it comes to nude hiking, they're not at a loss for excuses.
The rain gradually receded and made way for the first sunrays. In the course of the afternoon, more and more sunshine was present. We still passed the Marienhöhle and then ascended to the Bärfangkegel. Along the mountain ridge there were further views of neighbouring stone formations.
The inn Neumannmühle offered at the end of the day deserved refreshments and a cosy get-together.
 – Report and photos: Rainer
 ► Mon 27 Jul: Paddling in the nude on the Elbe River [29 July 2020]
Already in 2018 and 2019, the opportunity to explore the Elbe valley from the water by paddling nude was gladly accepted. This time, 25 naturists were interested and travelled from the hut by public bus to Bad Schandau. 24 of them were distributed to three inflatable boats, one preferred a kayak.
We experienced a hot day with many breaks for swimming and thoroughly nice encounters with numerous groups, families, or couples in boats on the Elbe and many more on the banks and on ships. Shortly before the reaction ferry at Kurort Rathen, the excitement rose, if the ice cream booth with "the best ice cream before Italy" (that's their advertising slogan) there at the Elbe cycle path would have opened. We were lucky and could enjoy the cold goodies there again in the nude.
Shortly before Stadt Wehlen, we landed on the right, put on some clothes and bought refreshments at a kiosk. Then, we returned to the boats and undressed again for the last, short stage. After landing on the left side of the Elbe, we returned the boats and sunbathed on the meadow until the train left for Pirna and on to Pirna-Copitz.
We enjoyed the evening after a short walk in the micro-brewery Zum Giesser in Pirna-Copitz. A chartered bus later brought us back to Ottendorf. Thanks for the wonderful day!
 – Report: Rainer; photos: Martin
 ► Tue 28 Jul: Via Hohe Liebe to Schrammsteine and Königsnase [29 July 2020]
We hiked on unknown paths and trails to one of our favourite destinations in Saxon Switzerland to discover new things along the way: Via Hohe Liebe we reached the Schrammsteine.
The group that had chosen the easier hiking variant spent the lunch break at the Frühstücksplatz with a view of the second group's climbing.
On the further way, thanks to a slightly changed route, there was another surprise: another beautiful lookout into the Elbe Valley with the Königstein in the background.
We spent the evening together again in the inn Lichtenhainer Wasserfall at the terminal stop of the historic tram in the Kirnitzschtal with excellent service, food, and beverages.
 – Report and photos: Rainer
 ► Wed 29 Jul: From Altendorf through the Sebnitztal Valley [30 July 2020]
We hiked from Altendorf along the Sebnitztal Valley and discovered traces of the former Schwarzbach Railway. Several bathing opportunities eased the hike.
A fence blocked a meadow path around Altendorf on our way back. So we hiked nude through the small village, as we had done in 2019 on another hike.
We discovered, that the local history association of the village had announced our nude hikes around the Kirnitzschtal on its information board with the slogan "Finally something's happening". Reference was made to an article "Die Nacktwanderer sind wieder unterwegs" (saechsische.de) in the regional daily newspaper Sächsische Zeitung.
In the evening, Clarisse (France) and Jane (England) thanked Christian, Erik, Martin, Matthias, and Torsten in German and English for the joint activities. They were happy and expressed their hope, that all of us will not only be back in 2021.
 – Report and photos: Rainer
NEWT now also in Spain since October 2019.
Richard Foley (England, than Germany, now Spain) founded NEWT (Naked European Walking Tour) in Austrian Alps. First backpacking, it turned then into a hut stay in Austrian Alps.
During the Austrian Naked European Walking Tour (NEWT) in July 2019, Jane and Nick (England) developed the idea of a similar week in Spain. Clarisse and Pascal (France) made it happen and initiated a week of hikes in the buff in October 2019 in the surroundings of the naturist campsite "Sierra Natura" in Spanish mountains southwest of Valencia on a height of approx. 800 m above sea level.
They offered a couple of hikes in the buff in the surroundings of this naturist campsite. It became the first Spanish NEWT and, thanks to the active participation of naturists from five countries (France, Germany, Spain, Switzerland, The Netherlands), it was already international again.
Austrian Alps, 2019: Naked European Walking Tour (NEWT). Founded by Richard in 2005, now initiated by Pascal, Clarisse, and Roland: Participants from up to 12 nations met for hiking the Alps nude. Most of the group members stay in a rented hut and share meal preparation there, but a smaller group regularly undertakes two or three day tours with tents, i.e. they also spend nights in nature. At least once, the tent group returns to the hut to refresh their supplies.
Nature and naturism harmonise better in the natural surroundings of the mountains
than anywhere else, but this year the landlord of the accommodation imposed a clothing requirement on the property and pool for the approximately 40 naturists. So it remains unclear whether NEWT will take place again in Austria, or whether another host country will be chosen.
Nevertheless, NEWT 2019 remained an event with highly attractive nude hikes in alpine surroundings every day. The individual hikes offered very varied experiences and insights into the fascinating world of mountain nature – including swimming in ice-cold lakes or rolling in snow.
Martin, a member of the 'Sächsische Nacktwanderfreunde', reports about NEWT 2019 in a detailed, personal photo report; Andreas has contributed additions from the point of view of the tent group.
 – Thanks to Martin and Andreas for providing these reports!
We got a participant's report by Lim, Singapore.
 ►  "NEWT 2018: a week-long nude hiking on the Tyrolean Alps
Having been to NEWT every year since my first participation in 2016, this third NEWT of mine was a lovely time of meeting old friends and making new ones. There is an enchanting attraction in Alpine hiking that is quite indescribable and makes it irresistible for hikers to return each year almost religiously but while the views are always stunning and breathtaking, one must not forget that the mountains are untamed and can at times be quite unforgiving. Having slipped and fallen on a cattle grid last year which resulted in a badly bruised knee, I was determined this year to be much more careful and sure enough, everything went on smoothly. […]
It was a lovely sunny day and we hiked up to Ahornstein. On our way, we came across quite a few non-naturist hikers with whom we exchanged greetings and pleasantries. There were horses too which, to a selfie-addict like me, were nothing less than an invitation to take more photos. […]
All the hiking left us pretty much hungry and thirsty and it was such a joy when we stumbled upon a tavern called Konigsbergalm 1300. This was the same place we stopped at in NEWT 2016. The owner was perfectly naturist-friendly and a handful of guests he had at his pub were very friendly. It's moments like this that make me regret not knowing how to converse in German. Before we left, the owner and staff asked if we minded having a group photo taken at his pub. We were more than delighted to oblige. […]"
Read the full report (PDF) with more photos.
 ►  "Saxony Active Naturist Week 2018
This was the first time I participated in the Saxony event. Previously, although I had heard of it, I was under the impression that it was an exclusively German affair. After all, the international participants of NEWT did not go to Saxony after NEWT. But last year, John (of Dublin) and I discussed the prospect of attending this event this year and the thought that there would at least be one non German-speaking Irishman somehow emboldened me. And boy, am I glad I went!
First, many of the participants of the Saxony event were people I already knew and had met in the previous NEWT events. Even those who were new to me were friendly and warm as all naturists tend to be. There were people from other countries too, and at least two other persons (quite apart from John and me) who did not speak German. It may not have as large an international community as NEWT but it's getting there. And the activities are incredibly enjoyable and varied. After the gruelling hiking at NEWT which exhausted me quite a bit, I was relieved to see that the Saxony hiking wasn't so strenuous. The area is a huge national park with unique rock formations and the hike involved a lot of climbing up ladders, steps and rocks and squeezing through crevices in rocks and going into labyrinths of tunnels and meandering paths that nature has blessed this area with. It's for me very much like the Disneyland of nude hiking.
Apart from hiking, we went boating in the river and yes, we cycled for 40 km into the Czech Republic and we cycled the same distance back, all by the Elbe River. […]
The international crowd from NEWT should also attend the Saxony activities just as the Saxony folks should attend NEWT. If you get to know people better, you will find that there is so much you can talk about with people who speak a different language. I spent many a pleasant hour discussing English grammar with Horst and Rainer – something I could never do with English-speaking people who universally don't know much about grammar. There's something truly amazing about the German people that made me decide to learn the German tongue but sadly, I just gave it up after my first lesson. Some things are just impossible. Hope to see everyone again next year!"
Read the full report (PDF) with more photos.
 – Report and photos: Lim, Singapore
We got a participant's report by John, Ireland.
 ►  "SAXONY ACTIVE NATURIST WEEK, impressions of a visitor
This was my first time to hike in the Saxon Switzerland landscape.  It is a most attractive national park.  The river Elbe adds to the attractions of the hiking areas.  We were never far from the river which looked very benign in the pleasant summer conditions.  We know, of course, that it can be very menacing in flood conditions.
The hiking was of a good standard,
fairly strenuous in the summer heat, but not as difficult as at NEWT.  Naturism seemed to be acceptable almost everywhere, and yet the only naturists I saw were the members of our own group.  Most clothed hikers, cyclists, ice cream vendors, etc, seemed to regard us as not exceptional.
Hiking through the caves and on the vertical ladders were a new and, at first, a somewhat frightening experience for me …"
Read the full report (PDF, with more photos).
 ►  "NEWT 2018, a week of naturist Alpine hiking, impressions of a visitor
This was my third visit to NEWT, so I knew many of the regular attendees, and I knew what the procedures were in the mountain hut that we shared and hiking out on the mountains.
Alpine hiking,
clothed or naked, is very strenuous because of the ascent and descent in mountainous terrain.  Non hikers do not appreciate how difficult coming downhill can be.  The ground is uneven and the hikers generally tired.  Most hiking accidents occur coming downhill.  When hiking naked more of the body is exposed to possible injury.  Being careful is essential.
NEWT 2018 was just as difficult as NEWT 2017 …"
Read the full report (PDF, with more photos).
 – Reports and photos: John (Ireland)
In 2018, NEWT (short for: Naked European Walking Tour) took place from 29 July to 2 August.
 ► Sun 29 Jul: Warm-up hike to the Ahornstein [29 July 2018]
46 Naturists from USA, Ireland, England, the Nederlands, Belgium, France, Germany, Switzerland, Greece, Slovakia, and Singapore gathered for the week of nude hikes in the Austrian Alps. Ten of them made use of tents (backpacking trips lasting two days each), the others return daily to the base of the rented holiday home.
A school girl and her father from Westphalia, who had completed their first nude hike last week in Thuringia, have taken so much pleasure in nude mountain hiking, that the two now also participate in the NEWT.
The warm-up hike on Sunday went to the Ahornstein (1,855 m), where we made the official NEWT photo with view onto the Hochkönig (2,941 m) in the Tauern Mountains. Lim then sent a group photo of the rest at the alp to natury. Many thanks for that!
 ► Mon 30 Jul: To the bottom of the Torsäule [30 July 2018]
According to FIFA rules, the goalpost is 2.44 m high. Its big sister, the Austrian mountain Torsäule [en: Goalpost], is much higher: 500 m. It is a very steep limestone formation on the eastern flank of the Hochkönig in the Berchtesgarden Alps. The summit is 2,588 m above sea level – but the naturists did not want to climb this far, as the last 500 m rise almost vertically and can only be climbed with at least level 8. Their target was at the foot of the limestone column, where a huge amount of crumbled stones had accumulated. For this, too, a total of 800 height meters (hiking) had to be overcome.
 ► Tue 31 Jul: Once on the Hochkeil [31 July 2018]
After yesterday's 800 m it should be a bit more relaxed today: only 600 m ascent to the summit of the Hochkeil were on the agenda. The mountain, which gave the name to the surrounding family ski area, leaves the imposing panorama of the Mandlwände [en: Mandl Walls] always in view, and the Hochkönigsstock as a meteorological divide ensures safe snow conditions and stable weather suitable for holidays.
After 14 km at 31°C, 30 naturists finished their day trip as minimally dressed guests on the alp. On the subject of naturist hiking, the landlords as well as other guests were able to talk to them personally and to inform themselves by means of our brochure. So far, they only knew that by hearsay.
 ► Wed 1 Aug: Via the Marathon Trail to the Jagglalm [1 August 2018]
Anyone, who sets off on a marathon route in the mountains, has to reckon with inclinations. If you want to win the "Hochkönig Man" race, you should keep your running pace – not like the hikers in the nude, some of whom leaned on walking sticks!
After 610 m difference in altitude and 7 km distance, we took our midday's rest at the Jagglalm. The bare mountain slopes all around showed the traces of the winter sports business in the "family ski area".
 ► Thu 2 Aug: Short trip to the alpine shower facility [2 August 2018]
In view of a rather long hiking day yesterday and a thunderstorm to be expected this afternoon, we only made a short hike to the waterfall, which we had already visited the day before yesterday. We didn't have to sweat today at 20°C, closed cloud cover and weak wind.
The schoolgirl and her father from Westphalia had, like many of us, a lot of fun at the waterfall and in the natural bathtubs. On Tue 31 Jul, when we were there already, the two had taken a day off.
In view of a rather long hiking day yesterday and an expected thunderstorm this afternoon, we only made a short hike to the waterfall, which we had already visited the day before yesterday. We didn't have to sweat today at 20°C, closed cloud cover and light wind. On the path, we discoverved a saga: "SAGENWEG: DER VERLORENE BROTLAIB" [en: "PATH OF SAGAS: THE LOST LOAF OF BREAD"]
After that, we split up: Some continued the hike. The tent group went back. Some had decided to spend the afternoon in the ALPENTHERME GASTEIN [en: ALPS SPA GASTEIN]. There, they enjoyed the pleasure of bathing, sat in dry saunas or outside in a hot whirlpool with their heads in cooling rain. Others also returned, experienced an opening cloud cover, increasing sunshine and enjoyed again food and beverages at the same mountain alp minimally dressed as on 31 July.
Some of the English naturists visited the town of Bischofshofen and witnessed bicycle races for children, adults, music, and dance. They bought for money, which we had collected before by asking group members for a voluntarily donation, very nice, personal little gifts. In the evening, when we sat together after the jointly prepared and consumed dinner, they presented the gifts to the initiators to say thank you for the voluntary, labor-intensive preparation and the time experienced together.
Since four of us from Germany, Ireland, and Singapore go to Saxon Switzerland on Friday after breakfast to participate in the nudevents over there, Allan (England) and Antonis (Greece) have announced, to send pictures of the last hike of NEWT 2018 to natury.
We would like to thank the iniators (France), who made this time together possible for the second time in place of Richard Foley, and the longtime leader of the tent group (Netherlands). The latter has learned original Indonesian cuisine from his Indonesian-born mother and coddles us with it one evening at each NEWT. We look forward to an international reunion by 2019 at the latest.
 – Rainer, Lim
Roberto reports about a day of nude hiking in the Alps and a relaxed encounter with Austrian police.
22 international participants of the NEWT (Naked European Walking Tour) drove by car from their shared accommodation, an old farmhouse in Pongau, a region of the Salzburger Land, on Sunday, 10 July 2016, to the starting point of their first joint mountain hike in the buff to Weng-Goldegg. The cars neatly lined up, they parked there their 5 cars from Italy, Germany, and France for a few hours at the side of a road. And very decent, but lightly clothed according to the sunny weather, the hikers stood around in small groups and studied their hiking maps.
This first tour was supposed to be easy, yet we expected already a lot. We hiked through the village 'Enkerbichl', where a young woman in the garden of the house No. 14 practised fast alpine music on concertina. We continued our hike always uphill into the sun drenched 'Weng' forest.
Finally, we were able to pack away our last clothes and continue to hike uphill with naturst verve.
Somewhere above the dense edge of the forest, most of the participants needed a longer break. So we rested on an alpine meadow, between boulders and alpine flowers, in the shade of a group of trees.
Also, we enjoyed the already fantastic view to the south – the Tauern Mountains were in front of us in its full splendour.
According to plan, we wanted to hike along the alpine path through upper pastures towards Schneebergkreuz Mountain (1938 m), with the intermediate peaks Gamskögerl (1746 m) and Hochegg (1817 m). But we realised soon, that we had to take care not to overdo hiking further uphill at this first day. We had to recognise, that the planned route was not possible today for our large group.
So we chose a way back, which past a country homestead at the wayside. The wooden building was locked, it seemed empty. A few friendly cattle threw a glance after us.
In the meantime, our hiking group had been significantly pulled apart: everyone enjoyed this wonderful Sunday individually.
Maybe because I was tempted to take pictures of every second Alpine flower in this varied nature, I was suddenly the last along with a British hiking friend, who had the task to take care, that none of uns would get lost. Quite a good idea because of large number of persons and languages, and because some of them had no experience in hiking through the Alps.
Anyway, my slowness proved to be an advantage for the moment, when just two police officers were approaching us:
"Stop, police, stop – what are you doing here?"
Well, my companion did not understand a single word of German, let alone the local dialect in the Pongau area. So, I served the two officers my way:
"He is from England and does not understand German at all. We are naturists, we hike in the nude. We are a group of about 25 people from several countries. We are here together for a week to hike in the Alps. Here, where you live, it is so beautiful! Because we cannot make to hike up to the summit today, we are now on our way back to our cars."
"So, these are your cars down in Goldegg?"
"Yes."
"And your are going to hike naked to the cars?"
"No, we don't do that, when we arrive at villages, we get dressed a little."
"Then your're lucky, otherwise, we would have to take you all to the police station! Who is the leader of the group?"
"His name is Richard Foley, he is also an Englishman. Certainly, he is already hiking a kilometer further ahead."
"Where are you all accommodated?"
"We rented a big house, at Dienten near Hochkönig Mountain."
"Where exactly? … Oh yes, We know it. […] How do you all make it to gather for such an event?"
"Today, that's quite simple: via Internet → www.naktiv.net"
"The owner of the property up there called us by phone. He was worried, because you are all naked. Of course, we have to to drive here and assure ourselves what's going on."
"Sure, no problem."
"So, have a nice holiday!"
"Thank you very much!"
Great, I thought, just a pity, that my companion did not understand a word…
Now, to close the gap between the group, the forest path down to the group was not entirely safe for me as a barefoot hiker. But my wish to talk and inform the other hikers of the "Have a nice holiday!" by the police was reason enough to hike as fast as I could.
However, this was easier than expected: A "cold shower" by means of a small waterfall, just as if been ordered in advance. Some of us jumped around like happy little children.
Much earlier than scheduled, but fairly satisfied, we finished our first day of hiking in our community centre with a fantastic dinner prepared by some NEWT participants, who were burning to cook. That beautiful, a nude holiday can be!
 – Report and photos: Roberto
In summer 2017, the Naked European Walking Tour (NEWT) took place again in the Austrian Alps.
Two videos on YouTube about naked wandering during NEWT 2017, Part 1 (HD, 15 min) and Part 2 (HD, 15 min), may give you an idea of how exciting the nude hikes were. Another video on YouTube (HD, 60 min) describes the course of events during a week of hikes in the nude during the NEWT 2013. Each link will open in a modal window.
This year, 48 nude travellers from USA, Ireland, Great Britain, Netherlands, Belgium, France, Switzerland, Germany, Slovakia, and Singapore met in Austria. A large farmhouse (the Hut) in the Wildschönau region of the Tyrol offered accommodation. Languages in use included English, German and French, but Flemish, Dutch and Slovakian were in use as well. We were able to greet others in their native tongue and to answer their questions. When required, some could also offer Spanish, Portuguese, Chinese and Russian.
Some of the hikers carried paragliding gear in a particularly large rucksack from the upper station of the Markbachjoch cable car a few hundred metres to the take-off area. From the Rosskopf, another 300m of height could be added. This effort was rewarded by a gliding flight over the beautiful landscape amid the impressive mountain panorama.
Ten hikers (the Tent group) slept in tents on alternate nights on the lawn in front of the farmhouse or in the mountains. Every second day they returned to the Hut group to eat together, spend the evening talking, and exchange experiences and ideas. One evening photos of nudist walks were presented from the USA and Europe.
On each of the six hiking days, we explored the beautiful surroundings, walking up to various peaks to enjoy impressive panoramas. We had distant glimpses of the Wilder Kaiser range and even of far-off peaks glinting with snow. There were mountain lakes and rushing streams to refresh us. We hiked for a total of about 75km, climbing and descending some 4,300m.
Once we were surprised by a thunderstorm on a dirt road: not for very long but with heavy rain. Even rucksacks with integrated rain protection let in some damp. On returning to the Hut, the sun was already shining from a blue sky and anything damp quickly dried when spread out in the yard, thanks to the warmth of the paving.
Conversation with locals revealed that our nudist walks were by now well known in the valley of the Wildschönau and beyond.
Children who met us in groups with their teachers or parents laughed merrily, and clearly had a lot of fun from seeing us and no doubt telling others about us afterwards.
We spent a long time talking to an alpine dairymaid that we met on her pasture. She happily asked us to convey her greetings to our landlady at the Hut.
Another time a couple stopped near us in their car and we exchanged a friendly greeting. But shortly after, the car stopped, a woman got out and asked for a photo to remember the moment, which we gladly gave her. From her we learned that a herdsman had seen us and called her. Her husband had asked her whether "they should be in the nude today (while cheese making)". She thought the idea was great, but was not sure if this would be compatible with hygiene regulations.
Our landlady happily took a printed exemplar of the German version of our 'Broschüre' (English version: brochure) and told us at our farewell that we were good guests and that we would be welcome to return at any time.
 – Report: Rainer; photos: Horst. Translation: Bernard.