"Naked Hiking Day" at summer solstice is at least in Vermont a common practice since longe time. Encounters with clothed hikers, families, rangers proceed relaxed and positive. We got a report by John P. about a Naked Hiking Day event.
The Solstice hike in Vermont took place as usual on the section of the Long Trail/Appalachian Trail between Wallingford and Mt Tabor. This year there were 11 participants in spite of the dubious weather, with a forecast calling for "a couple of morning showers and then some sunshine", which was pretty much what occurred. Rain the previous day meant that the proposed campout at Grout Pond didn't happen, but my friend Dan and I did camp at the Big Branch shelter near the hike's starting point, walking in under a misty drizzle. Because of that rain (and a wet week in general) the trails were muddy and flooded in places, and streams were running full. Nevertheless we were able to get by everywhere, and it was even possible to keep one's feet dry.
There were a few incidents along the way, all favorable. We passed several long-distance hikers, all clothed except one, who all greeted us politely and smiled when we reminded them that it was Nude Hiking Day. The one person we met who was celebrating the day was a woman who was wearing just boots and a bra.
Little Rock Pond is near the end of the usual Solstice hike, and it's a lovely lake with a camping area. Because it's just over 2 miles in from the road over a level trail (but rocky and bumpy!) it gets a fair number of visitors coming in just to camp, and a caretaker lives there in a tent during the summer. He wasn't there when we passed by, but we met him out on the trail with tools to create drainage ditches, and we exchanged a few words with him, nudity not being a topic for argument. Then a short while later we passed two women and some small children, and one of the ladies said to the kids, "That's 8 naked people so far, right?" and to us, "Have fun, everyone". Finally just a few yards from the end, I passed a couple I'd guess to be in their 40s, walking entirely naked with big smiles. Apparently they'd met the first section of our group in the parking lot, a conversation about Naked Hiking Day had occurred, and this couple decided that walking naked would be a fine thing to do!
Most of us finished up at Sal's South restaurant in Wallingford, where we had a meal before heading home. Because of the size of our group, they seated us in the back room, but the waitress didn't accept a suggestion that we should dine nude. Perhaps that could be changed if we asked in advance?
 – Report and photos: John P., USA. Source: Report on freerangenaturism.com, courtesy of John P
More reports
It began in Austria at the NEWT 2017, the "Naked European Walking Tour" founded by Richard Foley, which takes place every year in the Austrian Alps. Among the 48 participants from 10 different nations of 3 continents were also some US boys. Very soon, old acquaintances from the NEWT 2014 were refreshed again, and new friendships were established. Milt renewed his former invitation from 2014, to visit him in Florida at the naturist resort Sunsport Gardens.
Without much thought, we spontaneously accepted the freshly produced invitation and did not worry about, what we would expect there to be and how long the visit should last. Finally, we spent four weeks at – compared with our western European experience – very warm summer-alike temperatures of up to 35°C / 95°F under a cloudless, blue winter sky above Florida. We spent a beautiful, unforgettable time on the naturist site Sunsport Gardens in Loxahatchee near West Palm Beach and by excursions in the area. Sunsport Gardens was founded in 1965 by a German naturist, Hugo Förster / Forester. Today, Morley Schloss continues his heritage.
Of course, there was a challenge. We were asked to report on "Nude life" in Germany and some European countries. On the one hand, this involved some preparatory work, but, on the other hand, it gave us the opportunity to bring European naturist life closer to USA and Canadian friends. We prepaed our report on nude hiking and biking in many regions of Germany and other European countries.
We couldn't let the matter rest, because during an annual event in the Harz Mountains, bodypainting is always on schedule. And in August 2017, we did a stunning nude body-art performance in the harbour of Münster (Westf.). Consequently, this led to a second workshop on "Nude art in the world". In doing so, we did not confine ourselves to Europe, but looked e.g. also to Brazil and the USA.
During this time, the "Midwinter Naturist Festival February 15-20, 2018" took place there. Official comment on the website of Sunsport Gardens: »The Midwinter Naturist Festival was a great
success. We had a record number of attendees and over 290 activities. All 6 days had perfect weather.«. During several days, workshops were on schedule from 7 am until midnight, partly up to six in parallel at various locations of the terrain. The workshops covered quite different and various subjects, i.e.:
A Course in Miracles: Mind, Body, Integration, Purification, Wholeness
Amateur Radio Demonstration & SIG Meeting
Basic Digital Photography
Selection of workshops' topics
We were invited to participate in workshops and to present our workshops. Result: Naturists from the USA and Canada deeply impressed due to the amazingly free nude life without real problems in various European countries. Even more astonished were some, when we explained to them, that we grew up in Germany with the ever-heard message, that the USA were the home of freedom, free speech, and free choice of lifestyle – therefore being a dream of life for some people in Europe. Now, some people in the Americas may partly dream of even more
freedom of lifestyle in Europe.
Several trips took us to the clothing optional beaches Blind Creek Beach and Haulover Beach, to Palm Beach (place of yearn for those, who must show the world at all costs how much money they can spend, and place of domicile of Donald Trump), to Miami Beach (Art Deco architecture), several times to the Everglades, to the Loggerhead Marine Live Center, which is on duty of charity for the rescue of injured sea turtles, and to a Seminole Reservation.
In the Botanical Garden in West Palm Beach, an art exhibition did really impress us Washed Ashore: We Create Art to Save the Sea!: Hopefully, this will cause some people to think about the "madness of plastic" and maybe change own behaviour. The motto of washashore.org, "We hope, that someday we cannot continue to do this art anymore, because we will run out of this material!", is a call worth of consideration.
Also, a paddling tour on the Fisheating creek in six kajaks for one person each, was very impressive: Little alligators were around us from the beginning. Though, we were travelling in their homeland. At lunchtime, we were looking for a rest: We were just paddling around a bend, when a larger one lying in the sun looked at us and slipped into the water. The friends estimated its length to 15 feet (about 4.60 m). Right here, we got out for our
lunch. The animal watched us awhile and then swam its way. When we visited the Grassy Waters, we learned, that alligators are naturally shy and withdraw themselves from people. Only, when they are fed, they do loose their dread and become a danger to humans. Therefore, it is forbidden to feed alligators. Violators are prosecuted by the police and punished, fed alligators must be hunted and killed. During a visit to a Seminole Reservation, we learned that crocodiles in contrast are very aggressive by nature.
Oh yes: we also did a few nude hikes. However, because of the legal situation in the USA, our friends paid always heed to get ourselves covered in good time ("Cover up!"), when we were to encounter other people wearing textiles.
 – Report: Horst and Rainer, photos: Horst and Milt
More reports
Andy Golub has moved his presentation on bodypainting art to a new website:
"Our mission is to share who we are as human beings, to build a community accepting of ourselves and each other."
 – humanconnectionarts.org, on which a lot of videos on bodypainting invite to browse through and watch.
We present Andy's work also in the list of links concerning art with a reference to a video documentary "Beyond the paint".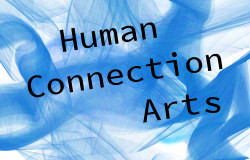 Aside from New York City, Andy's Bodypainting Day takes place in further cities like San Francisco, Brussels, and, Amsterdam, where the Bodypainting Day takes place since 2016. Artists, models, and spectators enjoy colourful presentation and natural joie de vivre.
A Berlin-based manufacturer of theatre make-up has decided in 2017, to promote Bodypainting Day as a sponsor, another manufacturer from New York followed as further patron.
More reports
Hint – further free-range bodypainting events in 2017

In Germany, further bodypainting events took place in Clausthal-Zellerfeld, Harz Mountains, and as a BodyArt Performance with elements of bodypainting in Münster, Westphalia: