NL · Naked Tour in Kunsthal Rotterdam: Guided tour through exhibition "I'm Your Mirror" [7 October 2019]
Since 2017, Kunsthal in Rotterdam has been organising its "Naked Tour" every year with great success.
Kunsthal Rotterdam, "Naked Tour": "I'm your mirror"
The museum offers from time to time, to walk nude through the exhibition. Each time, the guided "Naked Tour" attracts more and more naturists.
This year, it took place on 28 September.
The previously registered, approx. 60 visitors could visit the works of the Portuguese artist Joana Vasconcelos undressed. Four museum guides explained the individual artworks to groups of younger and older nude visitors including a grandmother and her two granddaughters.
The exhibited works this time had no relation to the nude person or body, unlike so often on naturist guided tours through museums. They were oversized objects, with which the artist satirically mocked the "roles" of men and women in society – for example in a pair of high heels made of chrome kitchen pots or by transforming a helicopter, i.e. a typical "male" object,
into an extremely feminine "lilicopter" with feminine attributes.
In the Netherlands, too,
media interest in events, where you can be nude, is growing. This is already evident from the fact, that a photographer and a cameraman accompanied the naturists and Algemeen Dagblad, second largest newspaper of the Netherlands, reported about it in an article "In je blootje door de Kunsthal: kijken naar de expositie en een beetje naar elkaar" (ad.nl) on 29 September 2019. Already in 2018, the countrywide known presenter Lauren Verster informed about the Naked Tour in the Kunsthal at that time in her TV show "Lauren!".
We learned during our visit, that there shall be another "Naked Tour" in 2020 – natury will inform you.
More reports
D · Primeval forest near Birgelen: Walk in May [20 May 2019]
Birgeler Urwald [en: Birgelen Primeval Forest] is a natural naturist area in the "Nature Reserve Maas-Schwalm-Nette" between the rivers of that names in Western Germany and the Limburg District of The Netherlands.
Four of us had registered first for Herbert's nude hike in the Vulkaneifel Mountains and were looking forward to be actively nude there again, to see well-known naturists again and to get to know new ones. However, in view of the forecast of thunderstorms in that hiking area, we decided at short notice, not to take the long drive to get there, and hiked instead in Birgelen Primeval Forest.
This choice gave us pleasant May weather with sun, weak wind, and air temperature above 20°C as well as a pleasant refreshing swim in a pond in the primeval forest.
We enjoyed bright, fresh green of spring, singing birds, and croaking frogs as many other hiking and cycling people did in the nature park. On the horizon, it became sometimes dark – there were probably thunderstorms or rain. The rain did not arrive until we had finished our hike and were on our way home. We had probably made the right choice!
 – Report and photos / videos: Rainer
More reports
NL · World Naked Bike Ride (WNBR) in Amsterdam [8 July 2018]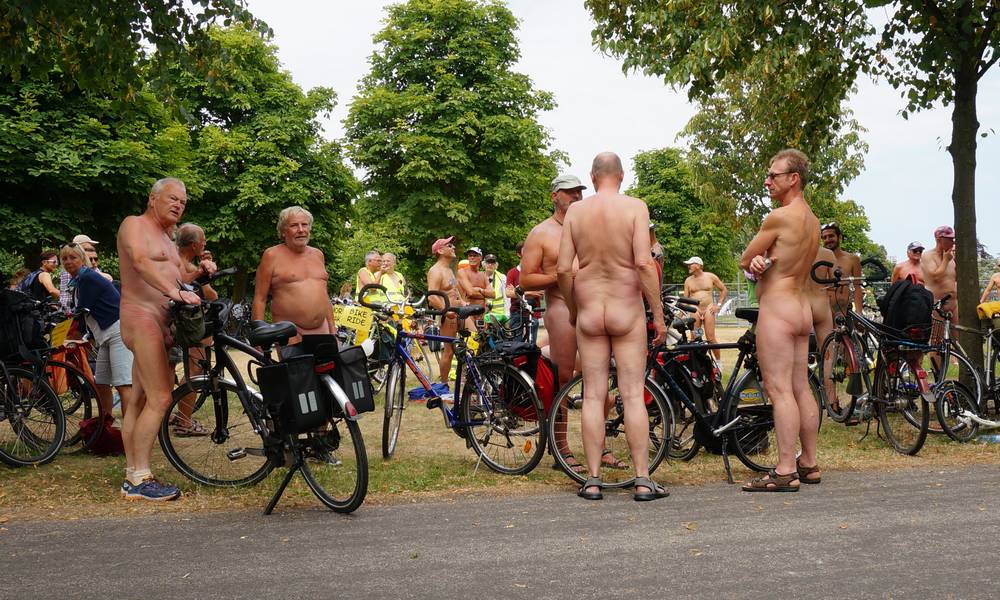 Start in Frankendael Park
The WNBR in Amsterdam 2018 took place on 7 July. Mostly sunny weather with temperatures around 25°C were excellent conditions for the city sightseeing in the nude. Nearly 200 participants had gathered for the start in Frankendael Park, where there was still the opportunity to at least partially cover the nude skin with colourful paint. In the best mood, the bike trolley set off punctually at 2 pm, guided and accompanied by stewards in yellow safety vests, which stopped car and tram traffic at intersections and squares so that the pro-bike demonstrators had a safe passage.
The highlight of the tour were again the rests on Magere Brug [en: Lean Bridge] and on Museumsplein [en: Museum Square] with a view of the Reichsmuseum. The audience in Amsterdam's streets, restaurant terraces, city tour boats on the canals, and in the museum park often applauded – and recorded thousands of spontaneous videos.
Video Full HD approx. 1 min. When watching the video, click onto

or
to switch to full screen mode.
More reports
NL · Nude hike through the Realm of the Elves [17 May 2017]
On 16 May, Dutch and German naturists met for a hike in the buff through heathland in the Dutch National Park De Meinweg. There are also ponds like the "Elfenmeer" [en: Elves' Pond].
Temperature rose to 30°C. The 15 km hike touched one of the so-called "Happiness Spots" of the "Tiny Treasures of Roerdalen". However, the ponds are not available for bathing and sswimming. The place is called "Realm of the Elves". The hikers were accompanied by the sound of spring in form of songs of numerous different bird species and the loud croaking of frogs in the ponds. And all of a sudden, a large number of wind power plant along a ridge far away somewhere in Belgium were seen, making this hike a real cross-border one.
De Meinweg is part of the German-Dutch Nature Park Maas-Schwalm-Nette.
More reports