► Nude biking and hiking weekend in Münsterland [24 September 2016]
Nude biking
The last weekend of September should again spend a nice and warm weather, so the initiators of the WNT offered a continuation: 17 naturists splitted into a hiking and a biking group and started their tour with sunshine at 19°C.
For the bikers, the airstream was still a bit cool, but the temperature arose quickly and reached over 25°C. 58 km made the biking group on their tour, the hikers needed an hour and a half longer for their 24 km.
Bikers and hikers in the north-western Münsterland were greeted with funny comments or questions.
The hiking group frequently passed farms along their trail, where they were often waved and greeted by joyous groups of children and their adult companions, while the men and elder youngsters of the farm worked on the corn harvest in 12-hour shifts.

Nude cyclists encounter hikers in the buff
Towards the end of the hike, a group of nude bikers met the group halfway. A sportive biker, who passed them at the same time, said: "I thought, I am lightly dressed. You do it right!"
At the end of the day, we stopped again for a bite to eat at the restaurant Das kleine Kartoffelhaus [en: The Small Potato-House] in Altenberge, where the naturists were served again exquisitely. Because a dinner in the nude in August in Altenberge has been well around, we also left here the German version of our informative brochure about nude life as information for interested restaurant guests.
 ► Nude hiking in south-west Münsterland [25 September 2016]
Barefoot on gravel? Brrrrr!

Hiking in the buff – sometimes also barefoot on rough ground
Last Sunday in September once again offered a high summer day with temperatures of up to 28°C and deep-blue sky. Nude hikers in Münsterland, Hamburg, Marburg, and Swabia felt attracted by nature, in order not to miss this splendid day.
Of course, many groups, who prefer to hike or cycle in sweated clothes, had also made their way into nature, and so many encounters between nude and clothed nature lovers happened on this day, all of which were in friendly, mutual understanding.
Particularly noteworthy were farmers working 12 to 13 hours utilising the dry weather to harvest corn before the next rainfall.
In the south-western part of Münsterland, an international group of hikers had gathered. We had the option to hike through a meadow or through a neighbouring brook, the latter also offering an occasional whole body cooling.
The final visit at the restaurant Haus Waldfrieden was dominated by a Bavarian-style Oktoberfest, whose original is celebrated each year 600 km away. The most popular dish was Bavarian style Sauerbraten, which had a different taste than the dish with that name in Rhineland. We were very satisfied!
 ► 27 September 2016: Thank you very much indeed for your liberal consent! [supplemented on 13 Febrar 2017]
The hike on Saturday, 24 September 2016, started surprisingly: Despite the directions given, two naturists were not sure, at which wind power station we would meet. "You're funny, there are so many wind power station here!", one of them said later. It is actually pleasing, that the turn to regenerative energy supply already shows so many visible results, that the hint "Meeting at the wind power station" can confuse foreign visitors despite accurate directions due to the sheer number of them in the area.
The two triggered a big surprise by asking at a farm nearby, in a distance of approx. 4 km from the centre of Altenberge, at which of the many wind power stations we naturists would meet. This prompted the senior farmer to drive to our meeting point and inquire, why there were so many vehicles parked at the wind power station nearby.
He smiled, as he asked, if we were the ones, who had hiked and cycled nude in the area a few weeks earlier, and if we were the ones, who had dinner in the nude in the restaurant Das kleine Kartoffelhaus [en: The Little Potato House].
We confirmed that with a smile back.
He informed us, that parking lots at wind power stations are actually reserved for the operators, who occasionally have to bring large-scale equipment there, to carry out maintenance or emergency work.
That Saturday, he allowed us to park on his private property for this day as an exception. Our tour was rescued!
Our naturist message in English


Slogans to be printed on posters or clothes
to inform others about your hobby
At the beginning of the following week, two of us visited the farm with a "Thank you!" card and a bottle of good regional, wood-barreled corn schnapps. Of course, we were dressed – wearing shirts with a naturist message in German printed on our shirts. Luckily, we met senior and junior farmer, a conversation begun after the "Thank you!" expressed also verbally.
We learned, that farmers leasing land needed for a wind power station to the respective operator, need to contractually commit themselves, to keep the space clear at all time for large lorries. The space is reserved for maintenance and emergency work.
Also, other cars parked there would cause insurance issues in case of objects falling down by accident.
We take this into account and will no longer park cars at wind power stations.
Surely, our "Thank you!" sended a message well understood and distributed among the farmers' community, that we are normal people, who know how to behave well in society, to listen to others, and to respond in an appropriate manner.
 – Report: Rainer
More reports
 ► Late summer naturist meeting in upper Bavaria [11 September 2016]

Meadows at the Isar
Two prussians*) (from Thuringia and North Rhine-Westphalia) informed themselves a few days before "Nude Alex" offered a hiking tour to some Gumpen, about naturists at the Isar River. They met with naturists living there and practiced nude hiking and bathing in the Isar at 29°C air temperature and in refreshing water at 16°C.
Nature was able to impress with a variety of plant life, crystal clear river water, fish, and traces of work of beavers, whose buildings can be found right on the water's edge. Now, also two prussians know, that Gumpen are water-filled natural pools in the rocks, in which you can have a pleasant bath.
 ► Naturist meeting in upper Bavaria [12  September 2016]

At the Isar
Further upwards the Isar, the naturists explored the impressive natural river landscape halfway through the water, half on pebbles, in sunshine, blue skies, at 26°C air temperature, and there at the upper reaches of the Isar refreshing 10°C water temperature. Walking sticks proved to be useful in balancing on the differently sized pebbles of the water, but partly less useful because of locally strong currents.
Fortunately, passages with strong currents were only short and not too frequent. And again and again, enough deep places with moderate flow offered the opportunity to a refreshing bath. We got a good idea of how river landscapes were before human interventions: meandering in a wide pebble bed, with relatively shallow water and constant changes in the river's course.
Afterwards, the return through shaded forests took place on a first pre-alpine rise, which a number of cyclists took sportily, back to the starting point.
There, the naturists could once again bathe in the Isar and refresh themselves. Only comment from sunbathing textile weares near a parking lot for hikers on the edge of a village: "Is not that too cold? We were only with a foot in there, and it was too cold for us." Well, after a hike at such a high air temperature, this is really a pleasant cool down.
We wished each other a nice day and went over the bridge. Sun and a friendly wind dried us, so that we did not even need a towel on arrival at the car.
 ► Naturist prussians continue to travel in Bavaria [13 September 2016]

Meadows at the Loisach River
The prussian naturists in Bavaria explored at 29°C air temperature the meadows and gentle slopes at the Loisach near Garmisch-Partenkirchen with the impressive panorama around the mountains Zugspitze and Karwendel. We shortened time for bathing in the Loisach slightly due to its water temperature of 10°C.
Particularly exciting was a part of the hike along the river – it felt almost as overgrown as Amazon jungle. Leisure teams on inflatable boats, in canoes, or on horseback in the river greeted as friendly as well as a farmer from his tractor doing hay harvest.
 ► Hike by Nude Alex to 'some "Gumpen" [14 September 2016]

Gumpen
20 naturists gathered to hike with Alex on his tour to some Gumpen. Up to 23°C air temperature and sunshine were the pleasant conditions, so that a bath in one of the numerous Gumpen with 9°C to 10°C water temperature always offeres a welcome refreshment. One Gumpe even had a natural shower of its own – water falling in it offered a strong massaging effect.
After arriving at Sylvensteinsee Lake, the participants entered the over 500-year-old restaurant Zum Altwirt [en: At The Old Barkeeper] in Lenggries and then switched, in order to end calmfully an eventful day, to a neighbouring ice cream parlour.
 ► Nude in the meadows of the Isar, central Munich [15 September 2016]
At the end of beautiful Upper Bavarian Naturist Days, the naturists experienced the Isar between Flaucher, a since 120 years existing nature reserve in the middle of Munich, and Grünwald at 23°C and sunshine.
The meadows at the Isar have been restored with great success in recent years. Plants, animals, and people feel equally well. A heron waited not far from the Flaucher on a stone in the crystal-clear water for food swimming by. Information panels describe the measures for renaturation, signs inform about the naturally behaviour in nature: no broken pieces of glass and no garbage left behind.

Meadows at the Isar
Between two nude hikes of about 6 und 11 km, we have had a typical Bavairian second breakfast called Brotzeit in a small beer garden directly nearby the Flaucher. We didn't miss a bath in the 16°C warm water of the Isar!
_______
*) It is a running gag in Germany, that some people in Bavaria distinguish Germans only into Bavarians (i.e. themselves) and Prussians (i.e. all others in Germany). Some – untranslatable – jokes make fun of that.
 – Report and photos: Horst and Rainer
More reports
 ► Sat 10 September: Circling Schwarzes Moor [10 September 2016]
On Saturday, we circled the area of Schwarzes Moor [en: Black Moor] in a clockwise direction, starting with the waterfall at the Eisbach [en: Ice Brook].
Compared to similar hikes in earlier years, we met far more hiking groups on the tour:
All approx. 25 encounters with textile wearers proceeded joyously up to animatedly, partly we could answer some questions concerning our hobby.
 ► Sun 11 September: Round hike at the Ellenbogen [11 September 2016]
Eisenacher Haus [en: Eisenach House] on the
Ellenbogen
(814 m) was until 1989 a popular destination for Russian officers – vodka flowed like water.
In the meantime, Eisenach House is again an excursion inn and hotel for Rhön tourists.
The view from the neighboring Ellenbogen [en: Elbow] marked the beginning of our hike in the buff. We descended over mowed hayfields in direction to the village of Kaltenwestheim. Then, we ascented back to the starting point. With 350 m cumulative descent and ascent, the tour was quite challenging at 28°C in the afternoon.
At the end of the day, we arrived at Eisenacher Haus and enjoyed cool and hot drinks, cakes, and ice cream.
 – Report and photos: Horst and Rainer
More reports
BjN (Bund junger Naturisten e.V. [en: Registered Association of Young Naturists]) active since 2016 initiates naturist excursions and holiday camps for young naturists.
Members decide themselves, which initiatives are to be taken.
A project worth supporting!
In August 2016, young naturists went on an exploratory tour into the past, following the traces of the life reformer Fidus (Hugo Höppener, see chronology 1887), who attracted worldwide attention, especially because of his Prayer of Light, which became an icon of the youth movement at that time.
The operator of the BjN website judged natury's article concerning naturism and puberty so plausible, that he published it (with natury's consent) as "Naturismus & Pubertät (Jugend & Nacktheit/FKK)" (junge-naturisten.de) in the BjN blog.
More reports
We could enjoy a bright blue sky and temperature up to 34°C for the first hike of the Westphalian Naturist Catch-up Days, i.e. those naktivities, which we had to cancel last June due to bad weather conditions. And during the next days, it is going to be quite similar!
 ► Thu 25 Aug: Participant's report by Bruno [25 February 2017]
Bruno, one of the participants of the hike, gave us two more photos and remembers:
A short distance along the road …
"25 August 2016 was a hot day. We had a happy get-together in the altogether. 15 km were enough for me. …
 ► Fri 26 Aug: Option to hike or to bike [26 August 2016]
Same start, same finish – only the length of the route is different for the cyclists and hikers in the buff. The 5 hikers decided at the second break, to shorten from 25 to 17 km and have a little drive to a nearby lake for a cooling down swim.

Nude bike tour in the Münsterland
The 16 cyclists completed their planned route of 54 km with many breaks. In fact, up to 34°C and plenty of sun caused, that moving outdoors was exhausting, despite a lake offering an opportunity for refreshment in between.
At the end of the day, we met in the restaurant Kleines Kartoffelhaus in Altenberge. In the reserved room, it was also quite warm.
One of the female hikers came up with the idea to ask: "We are naturists, hiked or biked today in the buff. It is so warm inside – may we take our clothes off and have dinner in the nude?"
We got permission! It was very delightful, to enjoy the exquisite dishes without clothes: quite like at home!
Nude in the restaurant Kleines Kartoffelhaus
[en: Little Potato-House]
The wide-open windows of that room directly opening to a street in the centre of Altenberge (approx 10.000 inhabitants) were closed a little bit after a while, as well as the door between the room and the main restaurant area, so that a lot of people saw us undressing or being nude at our table in the restaurant.
Between that extra room and a neighbouring one, there is a door with a lot of tiny glasses in its upper part. People in that room also noticed our undressing and then were puzzled, when they saw some of us going dressed to the toilet – the only requirement by the landlady to be fulfilled.
Later, she served us herself and asked us for permission to take a souvenir photo …
 ► Fri 26 Aug: Participant's report by Thomas [24 January 2017]
Addendum 24 January 2017:
Thomas has sent a participant's report to us concerning
his first hike in the buff on 26 August 2016.
"I am one of those, who only feel comfortable, when nude. I can practise this during vacation, in a sauna, and, of course mainly, at home.
In the course of time, the desire, to leave the domestic area and to experience the environment in the nude as you do quite naturally like a clothed human being, grew.
However, this is not possible in the densely populated area, where I live. On the website
www.natury.de
, I found one day information about a nude hike in public space.
With the so-called Westfälische Naturisten-Tage (WNT) [en: Westphalian Naturist Days], nude hikes and bicycle tours were offered on several consecutive days, e.g.:
Fr 2016-08-26 – Northern Münsterland  – Hiking | bike tour
Small tracks through fields, meadows, short forest passages, farmland.

Either Hiking:
In total about 26 km, approx. 120 m cumulated difference in altitude. 2 cars for food and beverage supplies after about 8 and 17 km in total. Option for a shorted hike (about 17 km in total)

Or biking
To take part in a nude hike did interest me very much. I expected a new impression of nature, as I had never known it before. I wanted to let the forces of nature like wind and sun act on me. As part of a group hike, I also felt safe enough. I would not have done such a hike on my own alone.
So, I registered myself at short notice and received after a few days detailed information. A very professionally designed PDF file (by the WNT initiators Mic and Rainer) provided me with all the necessary information and gave me an absolutely serious impression.
My questions about the event were always answered promptly and precisely.
The hike should have a length of about 26 km and be accompanied by two refreshment breaks. Northern Münsterland was announced as the region. In terms of a rural character, it has a rather loose settlement, often farmhouses, fields, forest, and the like.
This looked perfectly, because encounters with clothed people could certainly not be avoided, but should not happen too often from my point of view.
I wanted to approach the topic of nude hiking carefully, preferably through positive reactions and experiences."
You may read the entire report by Thomas
"Meine erste Nacktwanderung" as PDF.
 ► Sat 27 Aug: 16 or 23 km hiking in the nude [27 August 2016]

Hiking in the buff
14 naturists met at Westerwinkel Castle and hiked at up to 30°C and sunshine mainly on shady – and gravelly – forest trails to Nordkirchen Castle and then back to the starting point.
Several people, who probably did not know or could not classify nude hiking activities, called the police, so we had a visit of a police patrol in between.
After the policeman first spoke a bit confusing of possibly "perceived insult", he finally only asked us to take care for older ladies on traffic roads. Of course we will do that! We have rejected all other allegations as unfounded.
After 16 km, the hiking group reached the recreation place for the second time, and after the break, 4 hikers decided to take care of their tired feet or calves. They drove back by car, while the others continued their hike as planed for another 7 km.
 ► Sun 28 Aug: Nude hiking and track swimming [28 August 2016]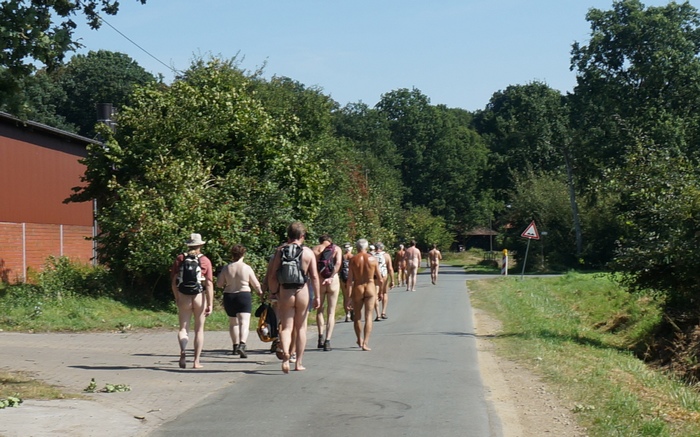 At Bockholter Berge
At the last of the Westphalian Naturist Catch-up Days, 16 participants hiked through the area of Bockholter Berge [en: Bockholt Mountains]. 40 m above sea level, the highest peaks have an altitude of 13 m, thus leading to 53 m above sea level. However, the uphill sections were good to handle for everyone.
Up to 32°C air temepreture. Last night's thunderstorm had increased humidity. You already started to sweat in the morning. A slope-free part of the hike ran over a few km along the Dortmund-Ems-Kanal We welcomed the water for cooling down and swimming.
6 track swimmers among the participants covered 3 km along the Ems River and enjoyed the cool water for more than an hour, while the others continued the hike. At the boat dock near Gimbte, we met again.
Before driving home, we went in Gimbte to the restaurant Deutscher Herd [en: German Kitchen Stove] and enjoyed classic German dishes – and also some of delicious ice cream cups.
More reports
Saxon Switzerland is very special. It has got its name from wonderful formed sandstone, which attracts hikers and climbers as well. Pls do not confuse it with Switzerland in European Alps. Saxon Switzerland is a part of Saxony, which is a so-called Bundesland, one of the federal parts of Germany with an own regional parliament.
 ► Sun 31 Jul: Nude hiking to Affensteine area [1 August 2016]

Affensteine
Six hikers began a continuous ascent to the the Affensteine [en: Monkeys' Stones], from where you have a magnificent view. We continued on a demanding route to further locations like 'da Grotte, where we met a group of 28 young women. We defered to them waiting at the side of the road. Continuing on a descent back to the parking lot, a thunderstorm with moderate rainfall accompanied us for about an hour, so we had to scrub ourselves dry with towels at first before entering the car. The evening, we spent comfortably at Albert's home at Elbe River. A successful, but also quite demanding kick-off, with 750 m of ascent and decent and numerous challenges during the hike!
 ► Mon 1 Aug: From the Schrammsteine to Hohe Liebe [2 August 2016]

Warm-up towards Schrammsteine
Twenty-two hikers arrived to ascent to Schrammsteine via Wildschütz Climb and to enjoy the magnificent view. We continued on a challenging path to Affensteine [en: Monkeys' Stones] with a hardly less spectacular view and after a descent and a further ascent to Hohe Liebe Mountain [en: High Love] Mountain. So, we made cumulative 472 m of ascent and descend again and got the reward of views from three summits. A beautiful tour, but to be cope with because of long climbs.
 ► Tue 2 Aug: Rauenstein and Bärensteine [3 August 2016]

Panoramic view from Rauenstein
Today, 21 participants started to ascent onto three summits. Rauenstein with a view to Bastei was the first, then we went to a restaurant on top of the hill for lunch. The weather remained overcast, only a few drops fell, while we were in the restaurant.
 ► Wed 3 Aug: Pfaffensteine [4 August 2016]
We reached the village Pfaffendorf, from where 23 naturists climbed Pfaffensteine and visited the numerous attractions of this rock formation. In between, we had cake or ice cream in the restaurant on top of the mountain, where we could experience excellent service – clothed, indeed.
 ► Thu 4 Aug: Bike tour to the Czech Republic for dumplings [5 August 2016]

Cycle Route along the river Elbe in Königstein
35 km of nude cycling to the Czech Republic was a pleasure for the 21 participants at temperature of up to 30°C and lots of sunshine, especially as a lot of people waved us on this Elbe Cycle Route and from excursion boats. On the spot, we had lunch in a restaurant, i.e. roasted pork with sauerkraut and Bohemian dumplings for 5.30 Euro. Then we went back without any breakdown back to Pirna.
 ► Sat 6 Aug: Hike in the nude from Gohrisch via Papststein to Kleinhennersdorferstein [7 August 2016]

Kleinhennersdorfer Stein
After one day being a rainy break, the weather continued on Saturday with warm (24°C) and partly cloudy weather. 25 participants hiked in the nude initially on Gohrisch, continued to the Papststein, and then finally to the Kleinhennersdorferstein. They could explore several caves. The three peaks are not far from each other and the altitude to climb in total was easy to handle. Several wide views rewarded us.
 ► Sun 7 Aug: From Bielatal to a plenty of lookouts [8 August 2016]

Herkules-Säulen [en: Samson's Columns]
24 naturists began the hike in the Bielatal [en: Biela Valley] and went up to numerous viewpoints such as Sachsenstein, Johanniskopf' and Kanzelstein' The highlight, however, was certainly the passage to Herkules-Steine [en: Samson's Stones] (cf. photo), where several climbing teams tried to find their path. At the end of the day, the labyrinth was on the program. At up to 26°C and lots of sunshine, it was an impressive nude hike.
 ► Mon 8 Aug: Steep paths to climb or to hike on normal paths [9 August 2016]

View upwards
This day, the aficionados of climbing should get there desired fun. 13 of a total of 22 naturists started with Zwillings-Stiege [en: Twins' Climb], continuing through Hentschel-Stiege [en: Hentschel's Climb] (lower part and chimney) and finally through Rübezahl-Stiege [en: Rübezahl Climb]. The hikers climbed through Hohe Hölle up to Carolastein – also this ascent had some challenging passages. Again, it was warm up to 28°C in bright sunshine, so that we did not want to miss of a bath in the Kirnitzsch at the end.
Photo: A look upwards through the chimney, the upper part of the Hentschel-Stiege. You must take off your rucksack and carry it in front of you, to get through a real "between rock and a hard place" situation, but at the upper end, daylight lures.
More reports
Until 2014, Andreas initiated several times weekends of naktivities. In 2015, he offered nine days of naktivities at a time. So, naturists could explore Thuringia more in-depth. Also, this was a motivation for some naturists, to travel from quite far distances and perhaps extend their stay for personal explarations before or after the naturist days.

Saale-Horizontale: Hiking in the buff begins at the edge of the city of Jena
 ► Sat 23 July: 14 km hike at Bleiloch Dam [23 July 2016]
At the beginning of the hike, we still took a bath in the dam to cool down. Later, this proved to be unnecessary: Cooling happened through the (involuntary) shower of a partly very hard rain, which determined the second half of the hike. The 37 participants took it easy: The fun on the hike remained untroubled – after all, there was a delicious dinner awaiting us in restaurant Krone in Ebersdorf.
 ► Sun 24 July: 12 km hiking in the nude around Harra [24 July 2016]
'Harra' is a village at the 'Saale' river in front of its entry into the Bleiloch Dam. We needed therefore some clothes and undress a few metres away from the car park. We had some nice view, could cool down several time by bathing in the dam and the river, because the temperature rose up to 28°C under a sunny sky.
 ► Mon 25 July: 16 km nude hiking [25 July 2016]
We took a normally scheduled public-transit bus to travel to the starting point at Gräfenwart. From there, we hiked over the barrage of the Bleiloch Dam on the west bank along back to a bus stop in Pöritzsch or in Saalburg. The varied trail offered several times option to bath in the lake to the 25 hikers – the temperature went up to 26°C and we had again a lot of sunshine. Only towards the end of the hike, it overclouded, and three to five drops per m2 fell.
 ► Tue 26 July: 15 km hiking in the nude near Bad Klosterlausnitz [26 July 2016]
During the arrival, there was a strong rain shower, but it was dry right on time from the start of the hike and it stayed until the evening. 32 naturists had gathered, who did not want to miss the traditional hike. The day was finished in the Kristalltherme spa, whose gastronomy, as usual, provided us with a good dinner.

At the railway station Ziegenmühle
 ► Wed 27 July: Nude biking tour near 'Saalburg' [27 July 2016]

Nude biking tour near Saalburg
The tour started with sparkling wine and a choir singing "Happy Birthday" for one of the nude cyclists. Twenty-two cyclists set off in parallel with a group of seven hikers. Their paths were planned in such a manner, that the two groups met once. Finally, after 26°C and a bright sky, there were a few raindrops, before we could have dinner on the terrace of a local hotel restaurant.
 ► Thu 28 July: Nude hike starting near Burgkhammer [28 July 2016]

Nude hike at Burgkhammer Dam
36 hikers formed a grand group, which began their hike at the foot of Burgk Castle to return several times to the Bleiloch Dam and to make use of bathing opportunities. At one of these places, we met a family whose 3-year-old son and 4-year-old daughter were bathing nude in the dam inflow. The three-year-old noticed the 83% male surplus of our walking group and exclaimed: "They all have a willy." Well, not all, but most of them. After 15 km, we hungry hikers enjoyed one of the traditional Thuringian disesh in restaurant Waldhaus in Karolinenfield to rebuild our forces for the next day.
 ► Fri 29 July: Canoeing or hiking in the nude [29 July 2016]
The choice was between a nude canoe trip on the Bleiloch Dam and a nude hike at the Hohenwarte Dam near Kaltener Schenke. Those, who did not like the paddling on the lake as too unusual or because the water is too deep (up to 40 m), stuck with the power of their own feet. The clear to cloudy weather up to 24°C was very pleasant for both groups, especially since the humidity had decreased significantly compared to the beginning of the week. Also at the end of the day formed the Bleiloch Dam the scenery – for a barbecue on the beach.

Nude hike at Hohenwarte Dam
 ► Sat 30 July: Nude hiking in the former borderland [30 July 2016]
Where today the border between Thuringia and Bavaria is, there was no man's land, which was allowed to be entered only under highest stipulations until the demolition of The Wall in 1989. 28 nude hikers crossed today completely unmolested the Green Belt, the former border between the two German states, with a wide view of the country.

Nude hiking in the borderland
 ► Sun 31 July: Nude hiking on horizontal pathes above Jena [31 July 2016]
On Sunday, the Thuringian Naturist Days 2016 ended with a hike on mostly horizontal paths above Jena with changing views of the city panorama. As closing event of these days, the participants had dinner in the beer garden of the restaurant Zum Ziegenhainer after today's hike. When the landlord noticed, that his guests were nude hikers, he asked, why we had not come in the buff. After a short consultation with their grandmother ("I do not mind!"), he allowed us to undress again and so we enjoyed the excellent Thuringian cuisine naturally in the buff.

Dinner: nude in beer garden
Thanks to the TNT initiator Andreas for the many work and the felicitous time!
More reports
We had a lot of sports and fun with nude hikes and a canoe trip in the nude.
Up to 20 naturists attended the naktivities. Musical entertainment in between provided the "Blues, Roots, and Song Festival" in Schneverdingen – just a reason to come back.
The aficionados of nude sports from all over Germany and neighboring countries spent 14 days in the Lüneburg Heath and the banks of the Elbe River with naturist activities and have enjoyed the specialties of local gastronomy at the end of the day. We could make a landlady of our guest room happy by giving her a T-shirt with the imprint "Vater, Mutter, Sohn und Lehrer – alle gehen nackt-wandern.de" [en: "Dad, mum, son, and teacher – all are hiking-in-the-buff.info"],
because she wanted to give it her grandson as a present.
On Sunday, 3 July, the group of hikers encountered a Heath Park ranger, who expressed vigorous concerns concerning hiking in the buff. With a few corrections concerning legal situation, he let himself calm down.
On Saturday, 9 July, then another Heath Park ranger appeared and wanted to stop the nude hike. He said, he had a mandate to advise nude hikers outside of the "official" nude hiking nature trail at Undeloh, that they must not be in the nude outside of this trail. In addition, he spoke of a deed "Erregung Öffentlichen Ärgernisses" [en: "Causing a public disturbance"], which of course is completely beside the point, because such a deed is per definition of the law always a sexual deed in public.
He did not believe that and called the police. A female officer initially spoke of "exposing genitals", but we made it clear to her, that this was not the purpose of our hike. Another police officer answered by phone and asked for the personal details of the initiator of the hike. A few hours later, he called again and said, that there was no reason to intervene.
The initiator then gave this message to Heath Park ranger, who now clearly found it personally very unpleasant, to be be handled by police as "complainant".
 – Report: Rainer
More reports
After having experienced the first "Thüringer Naturisten-Tage (TNT)" spanning nine days in 2015, Westphalian naturists developed the idea, to implement "Westfälische Naturisten-Tage (WNT)" as well. Looking for appropiate tracks was successful. We were even more lucky, to achieve further personal goals:
Offer hiking tours and – on some days – also cycling tours in parallel
Find mostly barefoot-friendly trails
Find places for refreshing skinny-dips
Swim along a river
Have one or two cars at the trail at places for a break – so-called "break cars" – for optional hiking without the need to take personal belongings, food, or even water with you.
Nearly everything was fine, well prepared, the weather during the week before the start summerly, bright sky, temperature above 30°C – at the beginning of the Westphalian Naturist Days, weather turned out to be moderate and partly rainy. Bad luck for the planed naktivities, but good luck for our existence, because water is the basis of life – no water, no life. Full stop.

Puddles after heavy rain
 ► Sat 18: Start with lasting rain – hike of 18 km discontinued [18 June 2016]
The first day of the Westphalian Naturist Days 2016 started quite humid: 18 participants started on a hike planned for 18 km. Those hikers, who carried rucksack and umbrella along, were at advantage: an abundant rain, lasting one-and-a-half hour at moderate 15°C and the tumble of a participant to the ground after slipping on wet asphalt eventually led to a strong shortening of the route. So we arrived at the restaurant hours early than planned. The most beautiful pleasure of the day was a warm shower afterwards …
 ► Sun 19: (Optionally shortened) Hike [19 June 2016]
Rain was over, but we still had to deal with puddles of the day before. The temperature arose up to approx. 19°C, cloudy sky changing with some sunshine in between. Some, who had to start their work early on Monday morning, graded the total distance of 24 km as a little long for them and therefore formed a small group of short-distance hikers, satisfied with 15 km of hiking.

Water = Life
 ► Mon 20: Osnabrücker Land [20 June 2016]
Saturday's rain was still in the puddles, but with 22°C and alternating cloudy weather with occasional clearing ups, the hiking conditions in the Osnabrücker Land were not so bad. We hiked between Mittellandkanal Channel, forest and, arable land.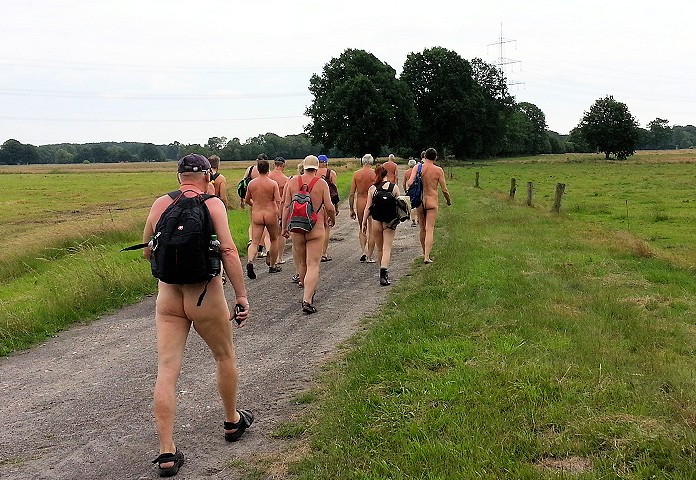 Rural area near Mittellandkanal Canal
 ► Tue 21: Teutoburger Wald near Bad iburg [21 June 2016]
12 naturists enjoyed rain-sodden routes, thus particularly suitable for barefoot hiking, through Teutoburger Wald [en: Teutoburg Forest] – or short: "Teuto" – in increasingly sunny weather and with views of some beautiful nature pictures.

Natural art in the woods
A course of 17 km, slightly changed due to some too slippery parts of hte planned route, finally led us to a bathing pond and ended in a basin for hydrotherapy according to Sebastian Kneipp. On a bench for dangling your feet, we could get the feet, which we just had cleaned in the basin, dry again by dangling them in the sunshine, while patiently unwinding ourselfes.
 ► Wed 22: Paderborner Land / Eggegebirge [22 June 2016]
Finally sun and warmth: up to 25&°C rose the thermometer, and a lot of sunshine accompanied the 16 hikers through the Paderborn Land – well, that a large part of the hike led through forest. In the Eggegebirge, a cumulative increase of 570 m in altitude had to be made.

Break in the woods
Part of the 18 km long hike led along the viaduct path from which we could look at the large and the small railway viaduct at Altenbeken from varying perspectives. After such a lot of physical exercise, we enjoyed finally a tasty dinner, to relax and to replenish our energy.
 ► Thu 23: At the Ems River between Warendorf and Telgte [23 June 2016
On the hottest day of the Westphalian Naturist Days with 34°C and 14 hours of sunshine, 2 groups formed: 10 participants used the flat land for bike tour of 50 km, which i.a. led to the lookout tower on the green banks of the Ems River. Later, a blowout caused the cyclists to shorten the tour by a few km. While we were busy with the repair, two police officers, who passed us on a bike patrol [Yes, that is part of normal business in Germany!], greeted us very nicely.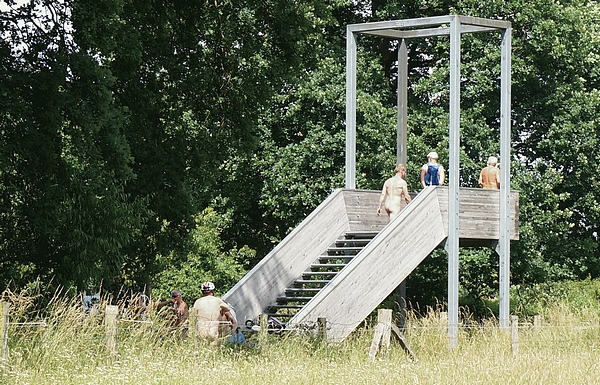 Lookout onto renatured area of
Ems River between Warendorf and Telgte
The members of the other group opted instead for a combination of hiking and track swimming: It was a deeply impressive, almost dreamlike experience, to be carried in the backstroke of the flow of the Ems through the romantic natural world of the watercourse!
 ► Fri 24: Heavy rain – Climate change very closely to the skin [24 June 2016]
Naturists fell the climate change directly: Heavy rain in the morning turned hiking and biking paths around Altenberge into a dangerous course, so that we had to cancel at short notice the naktivity on Friday due to danger of tumbling.
The forecast for Saturday announced heavy rain again all day, which let us to the decision, to cancel that naktivity as well. Wheather forecasts announce 100% probability for rain absolutely seldom  – it's quite uncommon, to be able to commit so clearly in the weather. But now!

Rain means life
 ► Regional newspaper "Westfälische Nachrichten" reports about our "Westfälische Naturisten-Tage" [27 June 2016]
Addendum:
Regional newspaper Westfälische Nachrichten reports in an article headlined "Westfälische Naturisten-Tage 2016: 'Nackt durch die Pampa'" (wn.de) in the Münsterland rubric.
 – Report: Rainer; photos: Friedhelm.
More reports