One example report per year 2016-20
D · Angela's experience: Hiking in a dress of light … from the point of view of a woman [28 August 2020]
This year, I participated for the 2nd time in a so-called nude hiking week: First at the WNT (Westfälische Naturisten-Tage) in July, now at the TNT (Thüringer Naturisten-Tage) in August.
These days remain in my very pleasant memory, even though we women were generally very underrepresented: With a number of participants of 20 to 40 only about 5 women "dared" to participate. I was with my partner, so I felt safe in the group. In addition, the size of the group and the self-confidence of some experienced participants gave me enough courage to face dressed people, whom we rarely met on our hikes, but whom we did meet from time to time. Most of them were friendly, understanding, and also curious, but some were also severely irritated.
These made me think, why do I want to walk around nude outside!? To this I say, if the surroundings are right, i.e. it is not in a city or in very populated areas, but rather in areas less frequented by people, then I really enjoy "contact" with nature with all my senses. By this I mean, not only eyes, nose, ears, mouth, hands perceive and feed me with information about my surroundings, but also skin and feet.
If they are "locked up" in clothes and shoes, and this is a large part of our body, they are hindered in their perceptive abilities. I was allowed to notice, that my head was incredibly flooded with additional, mostly very pleasant impulses via skin and feet with the processing! So much, that it seemed almost incidental to me, that me and my fellow hikers were in the nude. The "walking barefoot up to the neck" took on a meditative character, so that I was completely occupied with myself and the impulses of the wonderful nature surrounding me.
So, dear women, have the courage! It doesn't matter at all, how woman looks like, or what others, he or she, might think about that. This is not the topic among naturists (at least it is not made a topic)!
 – Angela
More reports
D · 2019 Naturist days in Harz Mountains [11 June 2019]
The "Special Meeting" by Petra and Uwe is always fun for approx. 40 naturists in a rented hut. Besides sauna and nude hiking, bodypainting takes place. Our presentation was rewarded with icecream. The long weekend beginning with Corpus Christi
in 2019 was again an opportunity for naturists to gather for naturist days in the Harz Mountains and to undertake naturist activities together in the Oberharz region.
During these naturist days, 13 of the naturists participated in a bodypainting. After the already traditional presentation of our body-art works between church and town hall in Clausthal, some of us enjoyed
a delicious ice cream. Other guests and passers-by first showed their surprise at the colourful "dresses", then greeted back friendly and took an unusual memory home.
After the trip to Clausthal, some of us did a short hike before dinner. We encountered a family with two boys and two girls. They obviously had a lot of fun in view of our picturesque skin art, and when we told them about having ice cream in Clausthal, they had to laugh out loud – their cheerfulness sounded for quite a while.
 – Report: Rainer; photos: Helmut
More reports
A · Participant's report about a nude hike and an encounter with police during NEWT 2016 [20 January 2018]
Maybe because I was tempted to take pictures of every second Alpine flower in this varied nature, I was suddenly the last along with a British hiking friend, who had the task to take care, that none of uns would get lost. Quite a good idea because of large number of persons and languages, and because some of them had no experience in hiking through the Alps.
Anyway, my slowness proved to be an advantage for the moment, when just two police officers were approaching us:
"Stop, police, stop – what are you doing here?"
Well, my companion did not understand a single word of German, let alone the local dialect in the Pongau area. So, I served the two officers my way:
"He is from England and does not understand German at all. We are naturists, we hike in the nude. We are a group of about 25 people from several countries. We are here together for a week to hike in the Alps. Here, where you live, it is so beautiful! Because we cannot make to hike up to the summit today, we are now on our way back to our cars."
"So, these are your cars down in Goldegg?"
"Yes."
"And your are going to hike naked to the cars?"
"No, we don't do that, when we arrive at villages, we get dressed a little."
"Then your're lucky, otherwise, we would have to take you all to the police station! Who is the leader of the group?"
"His name is Richard Foley, he is also an Englishman. Certainly, he is already hiking a kilometer further ahead."
"Where are you all accommodated?"
"We rented a big house, at Dienten near Hochkönig Mountain."
"Where exactly? … Oh yes, We know it. […] How do you all make it to gather for such an event?"
"Today, that's quite simple: via Internet → www.naktiv.net"
"The owner of the property up there called us by phone. He was worried, because you are all naked. Of course, we have to to drive here and assure ourselves what's going on."
"Sure, no problem."
"So, have a nice holiday!"
"Thank you very much!"
Great, I thought, just a pity, that my companion did not understand a word…
Now, to close the gap between the group, the forest path down to the group was not entirely safe for me as a barefoot hiker. But my wish to talk and inform the other hikers of the "Have a nice holiday!" by the police was reason enough to hike as fast as I could.
D · Our nude performance on the footbridge on Saturday night in pictures [29 August 2017]
Those naktivities in Münsterland in June / July, which had to be abandoned or cancelled, are now put onto the agenda again at end of August expecting more stable weather conditions. We were not only lucky having pretty good summer weather, but also could enjoy our nude performance as a gift to inhabitants of Münster (Westf.) and visitors, who were attracted by "Sculpture Projects Münster 2017".
After about half a minute, all naturists turn around and show the lettering "NATÜRLICH." [en: NATURAL(LY).] and the logo of the City of Münster. Naturism is just natural. We have to calm down the security guys, who are in red t-shirts: 'We are doing an art project here!'
Now, we are the other way round, and the people on the waterside side with the many restaurants can finally read: 'LEBENSWERT.' [en: WORTH_LIVING.], while from the other side now, ".HCILRÜTAN" can be seen from left to right, i.e. correct from right to left.
In all 4 positions, we have stayed for about half a minute. Now, our message has been understood and we are going back to the waterside. There is applause. Thank you!
After the performance, one of us answered questions of a young family about what they just saw. The three children at the age of 4, 6, and 8 years really liked it, and their parents as well.
Münster is LEBENSWERT, they all here know it, so they live here, NATÜRLICH!
 – Photos: Thomas
More reports
D · WNT – Westphalian Naturist Days in Münsterland [27 June 2016]
After having experienced the first "Thüringer Naturisten-Tage (TNT)" spanning nine days in 2015, Westphalian naturists developed the idea, to implement "Westfälische Naturisten-Tage (WNT)" as well. Looking for appropiate tracks was successful. We were even more lucky, to achieve further personal goals:
Offer hiking tours and – on some days – also cycling tours in parallel
Find mostly barefoot-friendly trails
Find places for refreshing skinny-dips
Swim along a river
Have one or two cars at the trail at places for a break – so-called "break cars" – for optional hiking without the need to take personal belongings, food, or even water with you.
Nearly everything was fine, well prepared, the weather during the week before the start summerly, bright sky, temperature above 30°C – at the beginning of the Westphalian Naturist Days, weather turned out to be moderate and partly rainy. Bad luck for the planed naktivities, but good luck for our existence, because water is the basis of life – no water, no life. Full stop.

Puddles after heavy rain
 ► Sat 18: Start with lasting rain – hike of 18 km discontinued [18 June 2016]
The first day of the Westphalian Naturist Days 2016 started quite humid: 18 participants started on a hike planned for 18 km. Those hikers, who carried rucksack and umbrella along, were at advantage: an abundant rain, lasting one-and-a-half hour at moderate 15°C and the tumble of a participant to the ground after slipping on wet asphalt eventually led to a strong shortening of the route. So we arrived at the restaurant hours early than planned. The most beautiful pleasure of the day was a warm shower afterwards …
 ► Sun 19: (Optionally shortened) Hike [19 June 2016]
Rain was over, but we still had to deal with puddles of the day before. The temperature arose up to approx. 19°C, cloudy sky changing with some sunshine in between. Some, who had to start their work early on Monday morning, graded the total distance of 24 km as a little long for them and therefore formed a small group of short-distance hikers, satisfied with 15 km of hiking.

Water = Life
 ► Mon 20: Osnabrücker Land [20 June 2016]
Saturday's rain was still in the puddles, but with 22°C and alternating cloudy weather with occasional clearing ups, the hiking conditions in the Osnabrücker Land were not so bad. We hiked between Mittellandkanal Channel, forest and, arable land.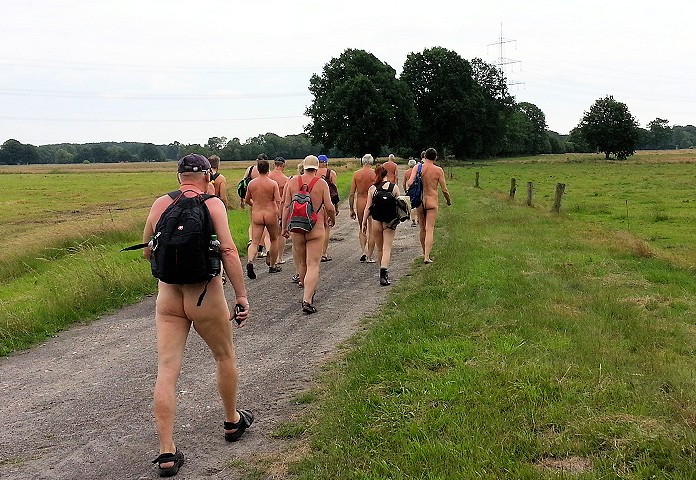 Rural area near Mittellandkanal Canal
 ► Tue 21: Teutoburger Wald near Bad iburg [21 June 2016]
12 naturists enjoyed rain-sodden routes, thus particularly suitable for barefoot hiking, through Teutoburger Wald [en: Teutoburg Forest] – or short: "Teuto" – in increasingly sunny weather and with views of some beautiful nature pictures.

Natural art in the woods
A course of 17 km, slightly changed due to some too slippery parts of hte planned route, finally led us to a bathing pond and ended in a basin for hydrotherapy according to Sebastian Kneipp. On a bench for dangling your feet, we could get the feet, which we just had cleaned in the basin, dry again by dangling them in the sunshine, while patiently unwinding ourselfes.
 ► Wed 22: Paderborner Land / Eggegebirge [22 June 2016]
Finally sun and warmth: up to 25&°C rose the thermometer, and a lot of sunshine accompanied the 16 hikers through the Paderborn Land – well, that a large part of the hike led through forest. In the Eggegebirge, a cumulative increase of 570 m in altitude had to be made.

Break in the woods
Part of the 18 km long hike led along the viaduct path from which we could look at the large and the small railway viaduct at Altenbeken from varying perspectives. After such a lot of physical exercise, we enjoyed finally a tasty dinner, to relax and to replenish our energy.
 ► Thu 23: At the Ems River between Warendorf and Telgte [23 June 2016
On the hottest day of the Westphalian Naturist Days with 34°C and 14 hours of sunshine, 2 groups formed: 10 participants used the flat land for bike tour of 50 km, which i.a. led to the lookout tower on the green banks of the Ems River. Later, a blowout caused the cyclists to shorten the tour by a few km. While we were busy with the repair, two police officers, who passed us on a bike patrol [Yes, that is part of normal business in Germany!], greeted us very nicely.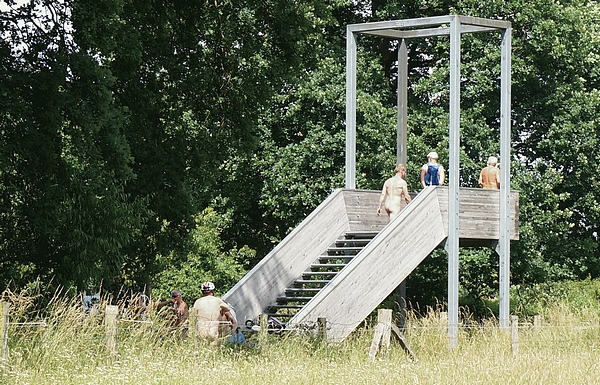 Lookout onto renatured area of
Ems River between Warendorf and Telgte
The members of the other group opted instead for a combination of hiking and track swimming: It was a deeply impressive, almost dreamlike experience, to be carried in the backstroke of the flow of the Ems through the romantic natural world of the watercourse!
 ► Fri 24: Heavy rain – Climate change very closely to the skin [24 June 2016]
Naturists fell the climate change directly: Heavy rain in the morning turned hiking and biking paths around Altenberge into a dangerous course, so that we had to cancel at short notice the naktivity on Friday due to danger of tumbling.
The forecast for Saturday announced heavy rain again all day, which let us to the decision, to cancel that naktivity as well. Wheather forecasts announce 100% probability for rain absolutely seldom  – it's quite uncommon, to be able to commit so clearly in the weather. But now!

Rain means life
 ► Regional newspaper "Westfälische Nachrichten" reports about our "Westfälische Naturisten-Tage" [27 June 2016]
Addendum:
Regional newspaper Westfälische Nachrichten reports in an article headlined "Westfälische Naturisten-Tage 2016: 'Nackt durch die Pampa'" (wn.de) in the Münsterland rubric.
 – Report: Rainer; photos: Friedhelm.
More reports