We could enjoy a bright blue sky and temperature up to 34°C for the first hike of the Westphalian Naturist Catch-up Days, i.e. those naktivities, which we had to cancel last June due to bad weather conditions. And during the next days, it is going to be quite similar!
► Thu 25 Aug: Participant's report by Bruno [25 February 2017]
Bruno, one of the participants of the hike, gave us two more photos and remembers:
A short distance along the road …
"25 August 2016 was a hot day. We had a happy get-together in the altogether. 15 km were enough for me. …
► Fri 26 Aug: Option to hike or to bike [26 August 2016]
Same start, same finish – only the length of the route is different for the cyclists and hikers in the buff. The 5 hikers decided at the second break, to shorten from 25 to 17 km and have a little drive to a nearby lake for a cooling down swim.

Nude bike tour in the Münsterland
The 16 cyclists completed their planned route of 54 km with many breaks. In fact, up to 34°C and plenty of sun caused, that moving outdoors was exhausting, despite a lake offering an opportunity for refreshment in between.
At the end of the day, we met in the restaurant Kleines Kartoffelhaus in Altenberge. In the reserved room, it was also quite warm.
One of the female hikers came up with the idea to ask: "We are naturists, hiked or biked today in the buff. It is so warm inside – may we take our clothes off and have dinner in the nude?"
We got permission! It was very delightful, to enjoy the exquisite dishes without clothes: quite like at home!
Nude in the restaurant Kleines Kartoffelhaus
[en: Little Potato-House]
The wide-open windows of that room directly opening to a street in the centre of Altenberge (approx 10.000 inhabitants) were closed a little bit after a while, as well as the door between the room and the main restaurant area, so that a lot of people saw us undressing or being nude at our table in the restaurant.
Between that extra room and a neighbouring one, there is a door with a lot of tiny glasses in its upper part. People in that room also noticed our undressing and then were puzzled, when they saw some of us going dressed to the toilet – the only requirement by the landlady to be fulfilled.
Later, she served us herself and asked us for permission to take a souvenir photo …
► Fri 26 Aug: Participant's report by Thomas [24 January 2017]
Addendum 24 January 2017:
Thomas has sent a participant's report to us concerning
his first hike in the buff on 26 August 2016.
"I am one of those, who only feel comfortable, when nude. I can practise this during vacation, in a sauna, and, of course mainly, at home.
In the course of time, the desire, to leave the domestic area and to experience the environment in the nude as you do quite naturally like a clothed human being, grew.
However, this is not possible in the densely populated area, where I live. On the website
www.natury.de
, I found one day information about a nude hike in public space.
With the so-called Westfälische Naturisten-Tage (WNT) [en: Westphalian Naturist Days], nude hikes and bicycle tours were offered on several consecutive days, e.g.:
Fr 2016-08-26 – Northern Münsterland – Hiking | bike tour
Small tracks through fields, meadows, short forest passages, farmland.

Either Hiking:
In total about 26 km, approx. 120 m cumulated difference in altitude. 2 cars for food and beverage supplies after about 8 and 17 km in total. Option for a shorted hike (about 17 km in total)

Or biking
To take part in a nude hike did interest me very much. I expected a new impression of nature, as I had never known it before. I wanted to let the forces of nature like wind and sun act on me. As part of a group hike, I also felt safe enough. I would not have done such a hike on my own alone.
So, I registered myself at short notice and received after a few days detailed information. A very professionally designed PDF file (by the WNT initiators Mic and Rainer) provided me with all the necessary information and gave me an absolutely serious impression.
My questions about the event were always answered promptly and precisely.
The hike should have a length of about 26 km and be accompanied by two refreshment breaks. Northern Münsterland was announced as the region. In terms of a rural character, it has a rather loose settlement, often farmhouses, fields, forest, and the like.
This looked perfectly, because encounters with clothed people could certainly not be avoided, but should not happen too often from my point of view.
I wanted to approach the topic of nude hiking carefully, preferably through positive reactions and experiences."
You may read the entire report by Thomas
"Meine erste Nacktwanderung" as PDF.
► Sat 27 Aug: 16 or 23 km hiking in the nude [27 August 2016]

Hiking in the buff
14 naturists met at Westerwinkel Castle and hiked at up to 30°C and sunshine mainly on shady – and gravelly – forest trails to Nordkirchen Castle and then back to the starting point.
Several people, who probably did not know or could not classify nude hiking activities, called the police, so we had a visit of a police patrol in between.
After the policeman first spoke a bit confusing of possibly "perceived insult", he finally only asked us to take care for older ladies on traffic roads. Of course we will do that! We have rejected all other allegations as unfounded.
After 16 km, the hiking group reached the recreation place for the second time, and after the break, 4 hikers decided to take care of their tired feet or calves. They drove back by car, while the others continued their hike as planed for another 7 km.
► Sun 28 Aug: Nude hiking and track swimming [28 August 2016]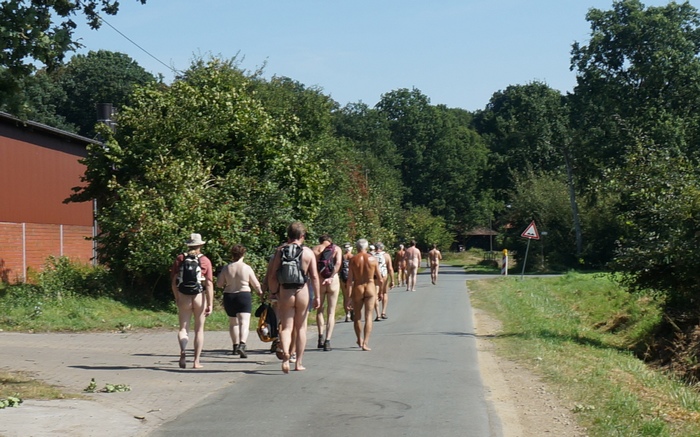 At Bockholter Berge
At the last of the Westphalian Naturist Catch-up Days, 16 participants hiked through the area of Bockholter Berge [en: Bockholt Mountains]. 40 m above sea level, the highest peaks have an altitude of 13 m, thus leading to 53 m above sea level. However, the uphill sections were good to handle for everyone.
Up to 32°C air temepreture. Last night's thunderstorm had increased humidity. You already started to sweat in the morning. A slope-free part of the hike ran over a few km along the Dortmund-Ems-Kanal We welcomed the water for cooling down and swimming.
6 track swimmers among the participants covered 3 km along the Ems River and enjoyed the cool water for more than an hour, while the others continued the hike. At the boat dock near Gimbte, we met again.
Before driving home, we went in Gimbte to the restaurant Deutscher Herd [en: German Kitchen Stove] and enjoyed classic German dishes – and also some of delicious ice cream cups.
More reports